Automatic & Semi automatic Die Bonders - Tresky
Tresky has developed the 2nd generation of semi-automatic / automated die bonders. These machines are ideal for small to large production volumes. The machine is built to fit the customer's applications.
Linear motors for high accuracy
Waferstation, tape feeders
Pick & place, with both dispensing and stamping
Picking from wafer, waffle and gel pack
Flip-chipcamera
Pattern Recognition System
Automatic toolchange
Singel- och multi chip applications
Scrubbing and Eutectics soldering with protective gas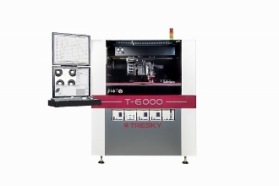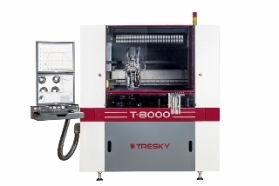 T-6000 L/G - Flexible High Precision Automated Die bonder
The new T-6000 is a universal die bonder developed specifically for small and medium production volumes as well as development. Standard component management is done from Wafer, Gel-Pack or Waffle-Pack. Location accuracy 10 µm. In addition to the automatic mounting and the Pattern Recognition camera, the T-6000 allows you to manually perform single mountings without the need for complex programming through simple press-release technology.
T-8000 Fully - automated Die bonder
The T-8000 is a universal die bonder developed specifically for extreme precision, placement accuracy of 5 µm, for medium-sized production volumes and development. 12 "wafer handling and even larger work area 500x450mm, otherwise the same applications and options as the T-6000 system.